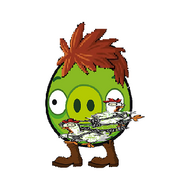 CW369 Pig is owned by CW369. It only seemed logical. He is also the pig version of the awesome founder of this wiki.
He stole Chicken Wrangler Zombie's (a zombie from pvz 2) chickens, boots, and his style. Chicken Wrangler Zombie woke up bald and with only socks on his feet.
Then he created a place called 'Der Angrey Birds Roleplay Wayki' in the wild west.
His chickens
Chickenwrangler369
The birds
The chick-fil-a people.
Community content is available under
CC-BY-SA
unless otherwise noted.